Friend of Up For Pups Barbie Marble wrote an informative article for CT's News Times recently about why it is dangerous to list your pet as "free to a good home" if you need to surrender him or her.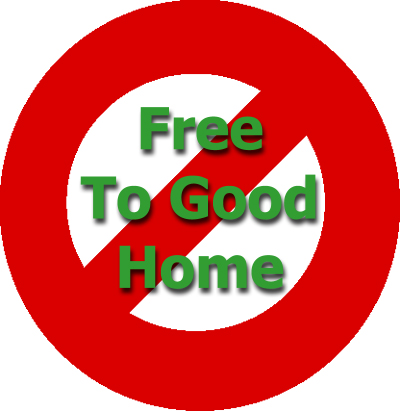 Here's part of what she said (for the full article, please visit the News Times website):
…"Bunchers," as they are referred to, scour local newspapers and chat rooms seeking people who can no longer tend to their family pet. They will sometimes even arrive at your home with their family and perhaps offer to pay you "for your trouble."
With free pet in hand, they "bunch" these animals until they have enough to make their journey to fighting rings. Some puppies and adult dogs may end up as fighting dogs who tear, wound and kill each other till one is victorious. Some puppies and kittens end up as lures in training the fighting dogs, torn apart in the effort to raise the blood-lust of the fighting animal. Some of those animals end up as sacrifices in religious or sadistic rituals. Some end up as objects of various forms of agonizing experimentation…
Barbie, who serves as the adoption coordinator for L.A.B Rescue and Adoption Network, suggests that a much better idea is to surrender your pet to a rescue that carefully interviews potential adopters and works to ensure that your pet truly goes to a good home. Private rescue organizations come in many different shapes and sizes, but one way to find one near you is to search Petfinder.com, which most rescues use to list their adoptables.